Since I have only had the pleasure of parking my car in the Maynard Street parking structure in Ann Arbor, Michigan, I was surprised to learn the garage was also used as a performance space, at least in 1965, by the avant-garde arts collective ONCE Group. Up on the top level they performed "Unmarked Interchange" with the support of members of the Judson Dance Theater including Trisha Brown, Lucinda Childs, Deborah Hay, Alex Hay, Steve Paxton, and Robert Rauschenberg. The Judson Dance Theater, a sprawling group of dancers, composers, and artists that pioneered postmodern dance, performed regularly at the Judson Memorial Church, located on Washington Square South in Manhattan, in the early-mid 1960s.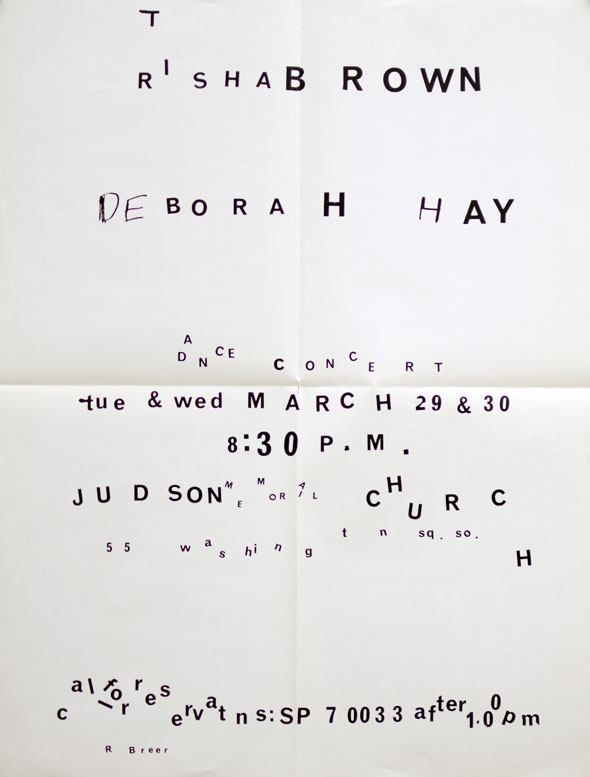 Deborah Hay, who trained with Merce Cunningham and Mia Slavenska, brought her large-scale conceptual dance projects to Judson, breaking down the distinctions between trained and untrained dancers; she was also on the SVA faculty in 1969. Hay's "Group I" premiered at SVA in 1967 and was composed of a group of eight performers in a tight assemblage, each periodically and simultaneously reversing the vertical position of a ten foot pole, while another group of five performers created simple geometric patterns in a small area on the stage and into the audience. Writing in the Village Voice, Jill Johnston described the piece as "compelling boredom in elegant non-objectivity with inexorable insistence on the definition of space. People framing a space, or space framing people." (December 14, 1967).
The year prior, Hay and some of the same Judson colleagues from the Ann Arbor performance brought their work to the Los Angeles County Museum of Art, where the program was printed on a bag in which audience members were instructed to stow their shoes.