This GIF was derived from a slide documenting a study of the font used in the logotype for PBS's 1971 identity, developed by Lubalin Studio. Where Lubalin used Avant Garde for the full name of the organization, in the Push Pin slide collection we have a study for an entire alphabet based on the logo initialism's character forms (and those, indeed, have a geometrical quality that recalls other Push Pin-era fonts). Jackie Frant on Typophile attributes the design itself to Ed Benguiat; a New York Times obituary for Ernie Smith says he worked on the project.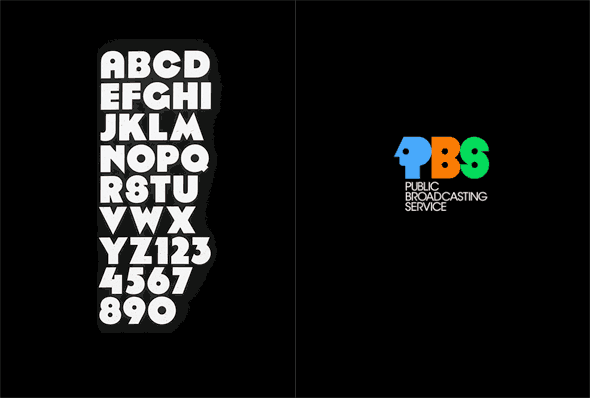 The widely-recognized guy in the logo's "P" is known as the "Everyman" or the "P-Head." I thought, since Seymour Chwast did many posters promoting PBS's Masterpiece Theater, perhaps this was related, but I haven't seen these characters on the ones we have here. (In 1984, Chermayeff & Geismar revised the logo by flipping the P-Head, and layering it to suggest a crowd—Geismar's new name for the logo was "Everyone.")
More on PBS's evolution of logos on Wikipedia.