I was initially drawn to this book (which came to us from Ivan Chermayeff) because it reminded me of the Chas Addams and Ed Arno collections from my dad's bookshelf. There are stylistic similarities to the classic New Yorker cartoons, but Abner Dean's work dispenses with their gloss to espouse a much bleaker reality.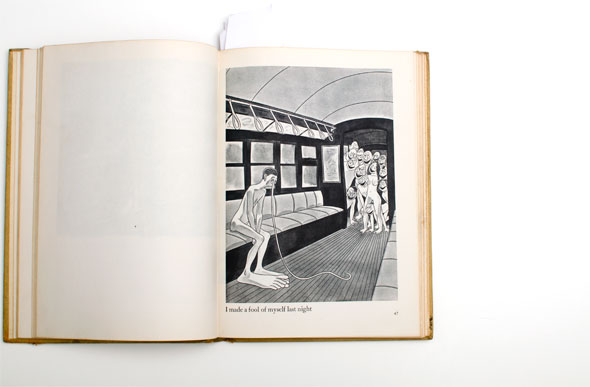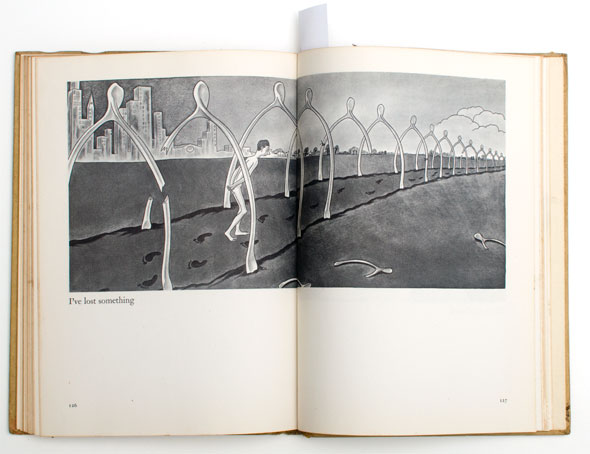 What Am I Doing Here?, which arrived during the post-war psychoanalysis boom, was Dean's second book of "naked people" in existential crisis. Clifton Fadiman's preface to the book emphasizes the irrepressible (though sometimes stupid) optimism and hopefulness of the everyman wandering through most of the cartoons and the presumable voice of the captions:
This naked little man… wanders among other naked men and women, full of good will and curiosity and fatuity. He gets into jams, but is always pretty certain something can be done about them. He's proud of the idiot contraptions he's assembled… He tries hard to conform – that is to say, he preserves a bland detachment among the lunacies that strew his path. Then he breaks out of the pattern in maniac glee, and throws the shoes of his questionings into the machinery. He will stumble, he will fall, he will be beaten, he will be blindfolded, he will be disappointed – somehow he will survive.
Flash forward to 2007 and it's easy assign a much deeper level of cynicism to the work. From Chris Lanier's eloquent appreciation of Dean in The High Hat
[Dean's] style seems the essence of an upper-middle-class '40s or '50s; the remarkable thing is that this isn't an ironic appropriation of a '50s style after the fact — it's the thing itself, happening as it was lived. It's the underbelly of an era revealed not through retrospective commentary but by experience. Of course, the spikiness of the popular culture of that time has been smoothed by nostalgia; some of the New Yorker cartoonists could be quite acidic. But Dean goes beyond barbed social commentary — he's willing to suggest human civilization might be an irredeemable enterprise. It's the difference between a grimly resigned belief that that war between the sexes is intractable and the belief that the subconscious is a roiling mass of venomous snakes.
Ken Parille examined Dean's work in "Sometimes We're Lovable in Our Error" (Comic Art No. 9, 2007) and in a 2009 blog post. Parille studied Dean's notebooks at Dartmouth (archives alert!), in which Dean commented upon some of the cartoons from What Am I Doing Here?. Based on his research, Parille supports Fadiman's optimism, but I almost wish I hadn't read Dean's notes, which dismantle and (needlessly) explain the sad lyricism of the captions.
Check our Flickr account for more and better images.
This post also appears on our PictureBox blog.