SVA has a long tradition of eccentric classes, not least of which are these two "special electives" from the 1975 registration booklet.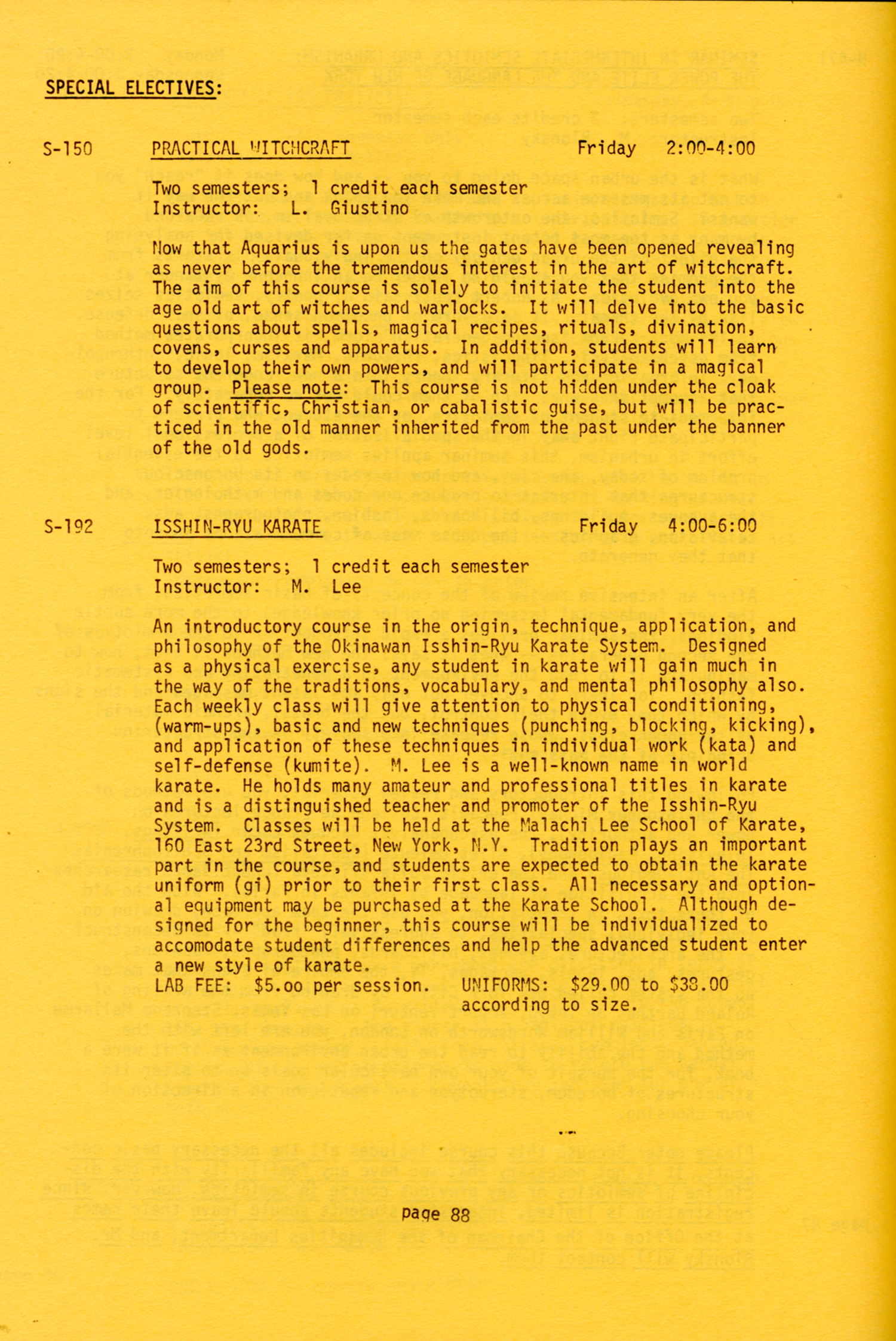 "Practical Magic" (S-150), was intended "to initiate the student into the age old art of witches and warlocks," something of which the instructor, Leonard Giustino, had practical knowledge. Having returned to the east coast from Sacramento, where he earned an MFA, Giustino described in a letter to the school how he survived a "magical attack by an enemy warlock," which nearly destroyed him and his family. He claims that he countered the attack at the last moment "by hurling the boomerang curse, rendering his enemy helpless." Giustino considered this his greatest test.
S-192, "Isshin-Ryu Karate" was taught at the dojo of Malachi Lee, in a building on 23rd street which has since been torn down (the new building hosts Awe Sum Dim Sum on the ground floor). As a martial artist, Lee was noted for his reach and height, which are on display in his sole venture into cinema with the blaxploitation martial-arts film
Force Four
(aka
Black Force
), where he towers above his costars (the film is available in its entirety on
Tubi
—highly recommended).
One of Lee's most-famous students, John McDonald (aka John Danelle), also found his way into acting, most notably in a recurring role as Dr. Frank Grant on
All My Children,
later becoming the Associate Director of Alice Tully Hall at Lincoln Center. Tragically, Lee died sometime in 1975, likely before he had a chance to see the final cut of his big-screen debut.