Several recordings of historical lectures, interviews, and symposia at SVA are now available through Artstor. Digitized from old quarter-inch reel-to-reel tapes, these recordings cover a period from the early 1960s to late 1980s and represent a wide range of art and thought from the period in question.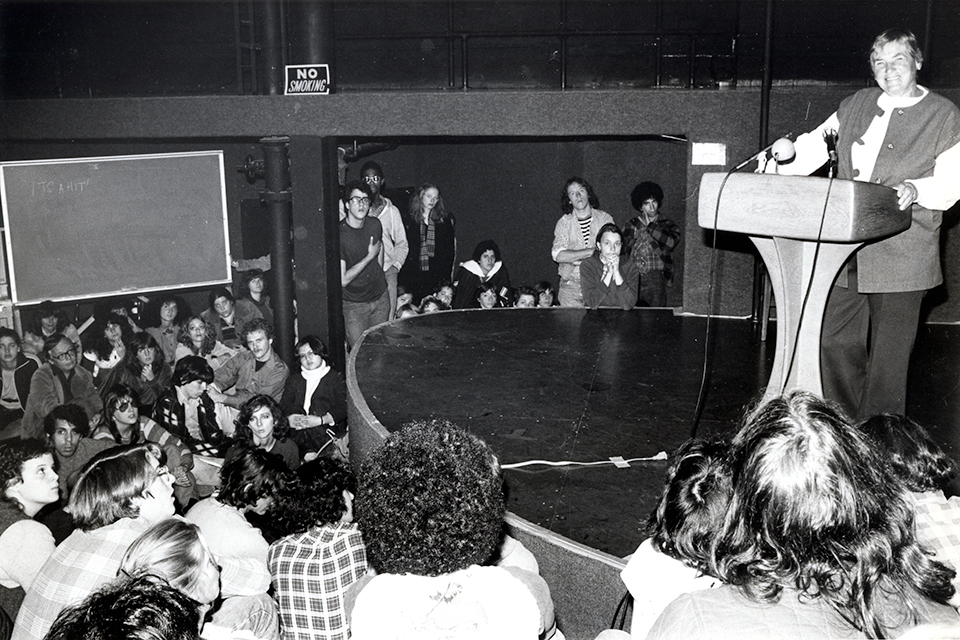 Some of the more famous speakers include Salvador Dalí, Agnes Martin, and Morton Feldman, and many artists who are household names today spoke at the school when their were still relatively unknown. One example is a particularly interesting esymposium organized by SVA alums Joe La Placa, then a gallery assistant, and Randolph Black, recently graduated. The event, apparently untitled, advertised itself with the following paragraph:
As an artist the choice of whether to become an integral participant in a group of people who share a common purpose or to remain an individual entity, renouncing associations with collective thought (or any combinations of the two), becomes even more confusing by the contemporary dependency on media and the many methods of presentation available in an urban setting.
In addition to the critics Ingrid Sischy and Carol Squiers, the symposium hosted Diego Cortez, curator and founding member of the art collective Collaborative Projects (Colab); Alan Moore, artist and member of Colab; Tim Rollins, cofounder of Group Material and the collaborative Tim Rollins and K.O.S. Ostensibly, these three represented the "collective thought" side of the symposium, while Julian Schnabel, Jenny Holzer, and Barbara Kruger represented, we suppose, the "individual entity" side (though both Holzer and Kruger would participate in both Colab and Group Material soon after this event).

Schnabel was already an art-world darling at this point, which you can tell from the event's poster and press release describing him as an "artist with Mary Boone, Leo Castelli Galleries," while Kruger and Holzer's names are hastily written in by hand below his name (Holzer's name misspelled "Holtzer" on both the poster and the press release)
Holzer, having entered the Whitney's Independent Study Program a year after Schnabel left, was still relatively new, but on the cusp of blowing up. Kruger appears here about 5 months before the New York debut of what would become her signature style, at the group show "Public Address," at Annina Nosei's gallery.
You can access the recordings through the
collection page
on our website. To read more about the collections, see the
Fall/Winter 2020
edition of the
Visual Arts Journal.