While the Cooper-Hewitt Museum was renovating the Andrew Carnegie Mansion in NYC in the early part of the 1970s, the museum's coordinator of exhibitions Dorothy Globus and architect Robert Mangurian organized this sprawling outdoor exhibit/walking tour of lower Manhattan, which took place during the summer of 1975.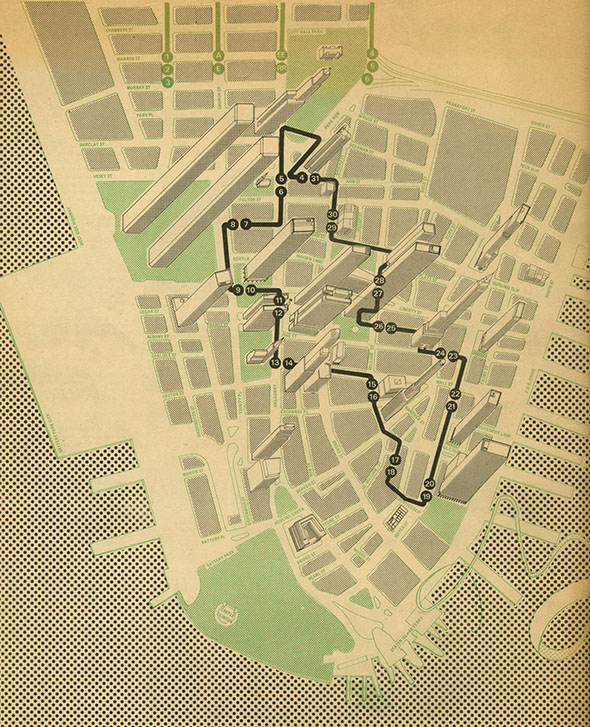 Mangurian wrote of the concept:
[The] objects [in the exhibition] range from buildings to streets to lobbies and lamp posts, and have been selected because of the quality of their design or because they illustrate one or more design forces that have affected a larger area of the city. Thus, the Equitable Building became an Immovable Object not so much because of the the quality of its architecture but because its great bulk precipitated the passage of New York's first zoning law, which subsequently has affected the shape of every building in the city.
Divided into fourteen segments, each section of the walk focused on certain design and development changes including the growth of lower Broadway, the evolution of the design for the World Trade Center (which was not fully constructed at the time of this exhibit), the rehabilitation of the South Street Seaport, and how plazas might better accommodate the interests pedestrians over developers.
The graphics for the exhibition were designed by Keith Godard and included an extensive tabloid newspaper-style catalog, which contained a map and historical and architectural essays on the sites. It was sold at downtown newsstands for 50 cents. The ribbon imagery in the poster echoes the ticker tape that was affixed to buildings along the route.