Glaser's restaurant design work for restaurateur Joe Baum's Rainbow Room, Aurora, and Windows on the World were massive projects that encompassed every aspect of the diners' experience, but one component we never knew much about were staff uniforms and other textile-related designs. That changed earlier this year when we were contacted by
Carrie Robbins
, a costume designer who worked with Glaser for sixteen years, "extraordinary in my career," Robbins says. "I hold the record for the living designer who has created costumes for the most failed Broadway shows in history. Few theater designers do anything that runs sixteen years." (Flops aside, the award-winning Robbins also designed the costumes for
Grease
,
Agnes of God
, and
White Christmas
, among many other productions.)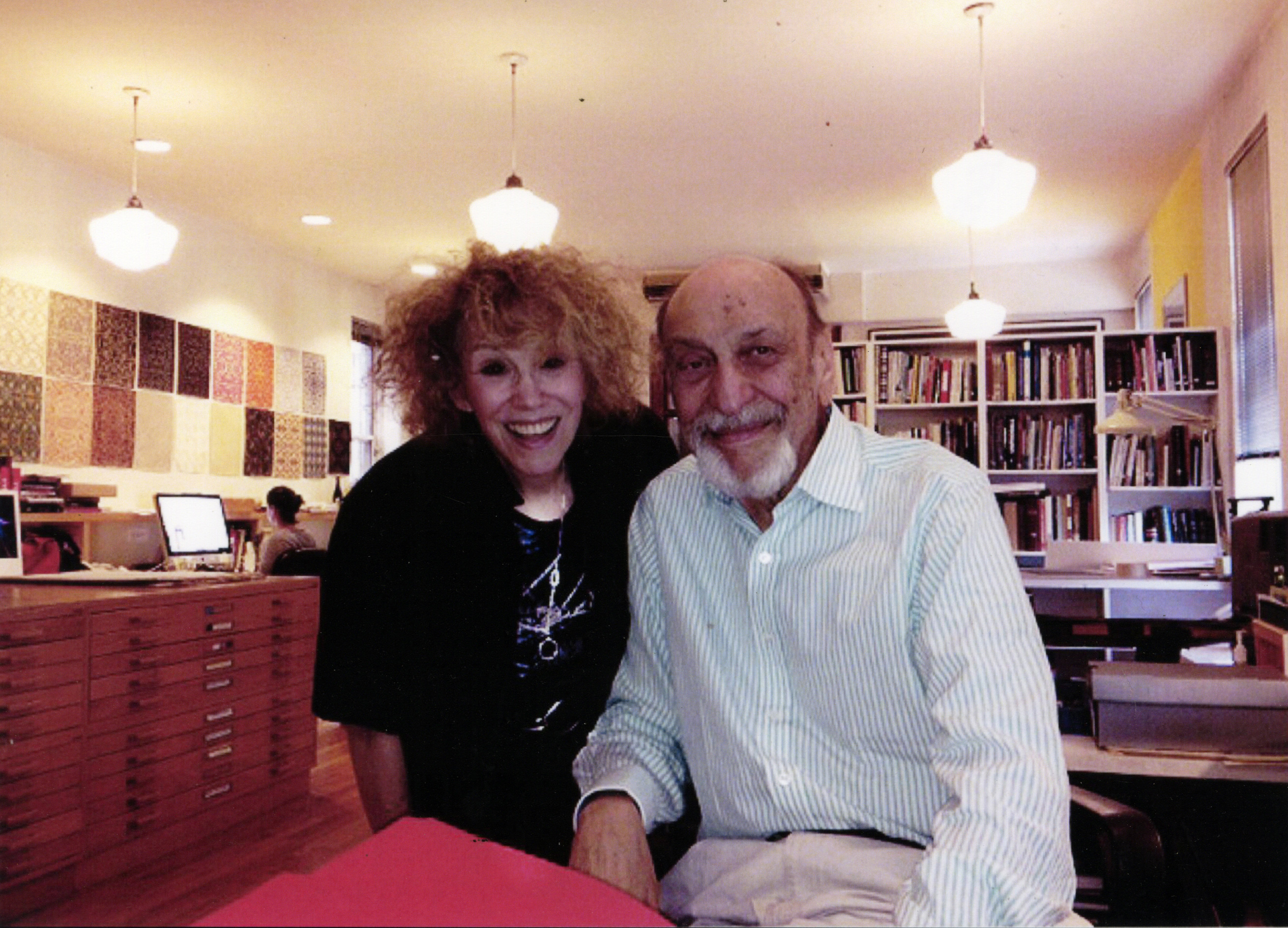 In 1986, fresh off designing costumes for
Saturday Night Live
, Robbins was contacted by Glaser to design the uniforms for
Rainbow Room
(which, coincidentally was in the same building as SNL at Rockefeller Center), and then, a short time later, for Aurora. In 1995, Glaser brought back Robbins for the Windows on the World redesign, for which she would create 700 pieces. In addition to the uniforms, trims, lapel pins and the like (all influenced by his logo and interests in pattern and color), Robbins worked closely with Glaser on the dramatic beaded mural that hung in the lobby of Windows on the World on the 107th floor of the North Tower of the original World Trade Center. Glaser's fascination with the interplay of color and light led him to seek an unconventional medium that might allow light to show through. Robbins shares her brainstorming session with Glaser:
The bead idea all began when Milton took on the assignment of what goes on the wall of the lobby. A mural? He asked me to come by his studio. He had some questions. He asked if a pictorial image could be created in some unusual medium. Not paint. Maybe something light could pass through. I can't recall if he had already eliminated stained glass. "There's lots of interesting sheer fabrics," I volunteered. "With many lovely textures… there's trims with metallic or opalescent threads that can be knit or crocheted or macramed… there's beads…" Milton perked up. "Beads? A rather small surface for an image…" I clarified, "You know those Victorian or Art Nouveau table lamps usually with glass shades by someone like Tiffany?" Of course he did, "You know how those lamps were finished off at the bottom of the shade by a deep fringe, about 4 inches, of tiny beads?" Of course he knew the size immediately. "And instead of a single color, the beads were strung in a pattern which, from a distance, became beautiful Art Nouveau type flowers and leaves?" I think at this point I scribbled a lamp and drew in the floral fringe. He asked a few more questions that day: could he get any bead color he wanted? (Yes, we dye to order.) "Is there a way to change the glass texture?" (Yes, we have them sandblasted just like any glass. We call it satin finish. Or matte if you really blast it.) "Is there anything else interesting I can do to a bead?" (Yes, we can coat them with opalescence for you so the color becomes a pearlized version of itself. They're gorgeous that way!) Many many months later we delivered the final product.
The beaded curtain consisted of 430,000 beads, all hand-strung, adding up to thirty-eight running feet of fringe. Robbins had a professional scenic artist paint Glaser's sky-cloud mural on narrow flats which were placed behind the curtain, underpinning the design as light passed between the panels and the fringe.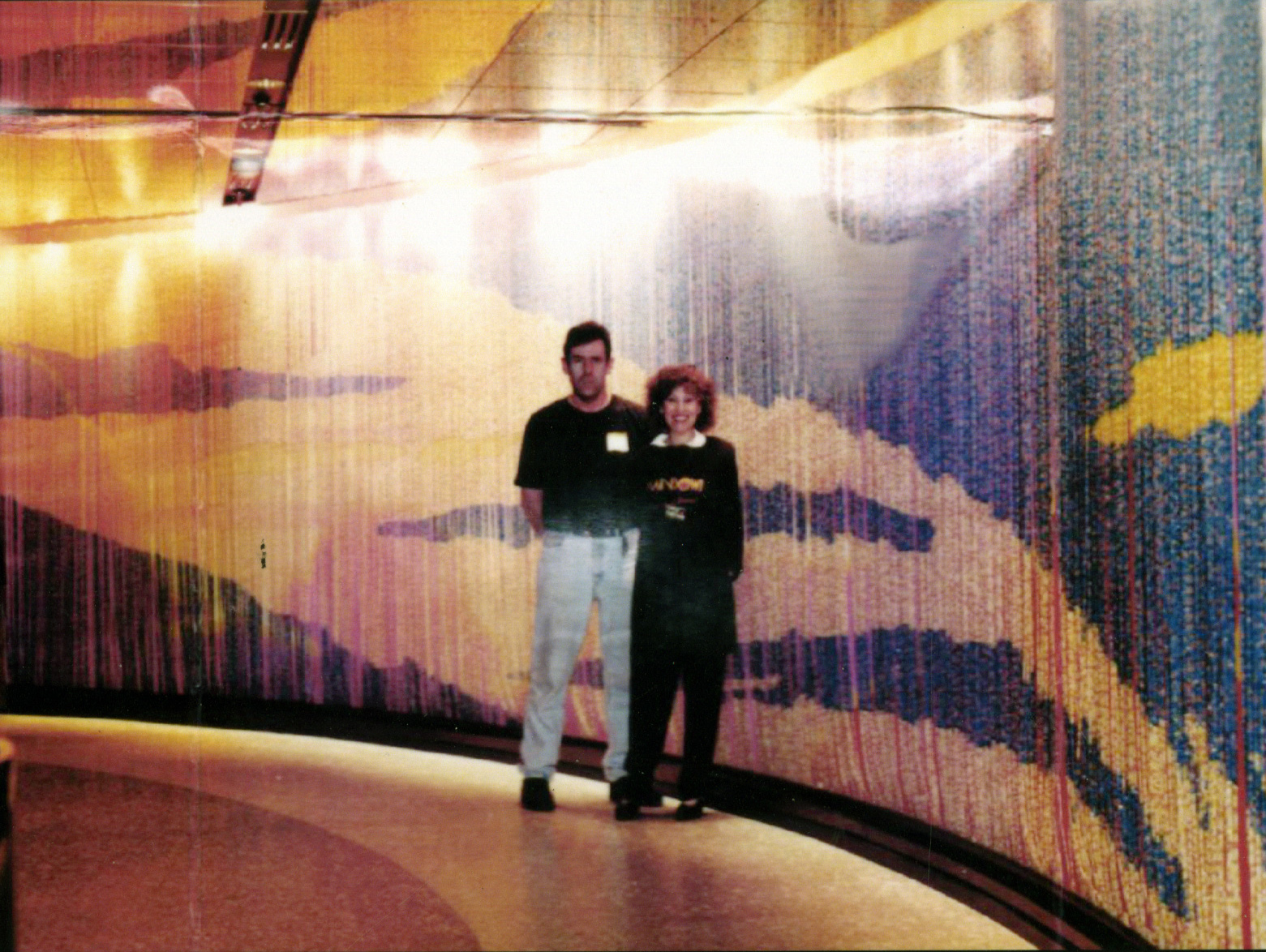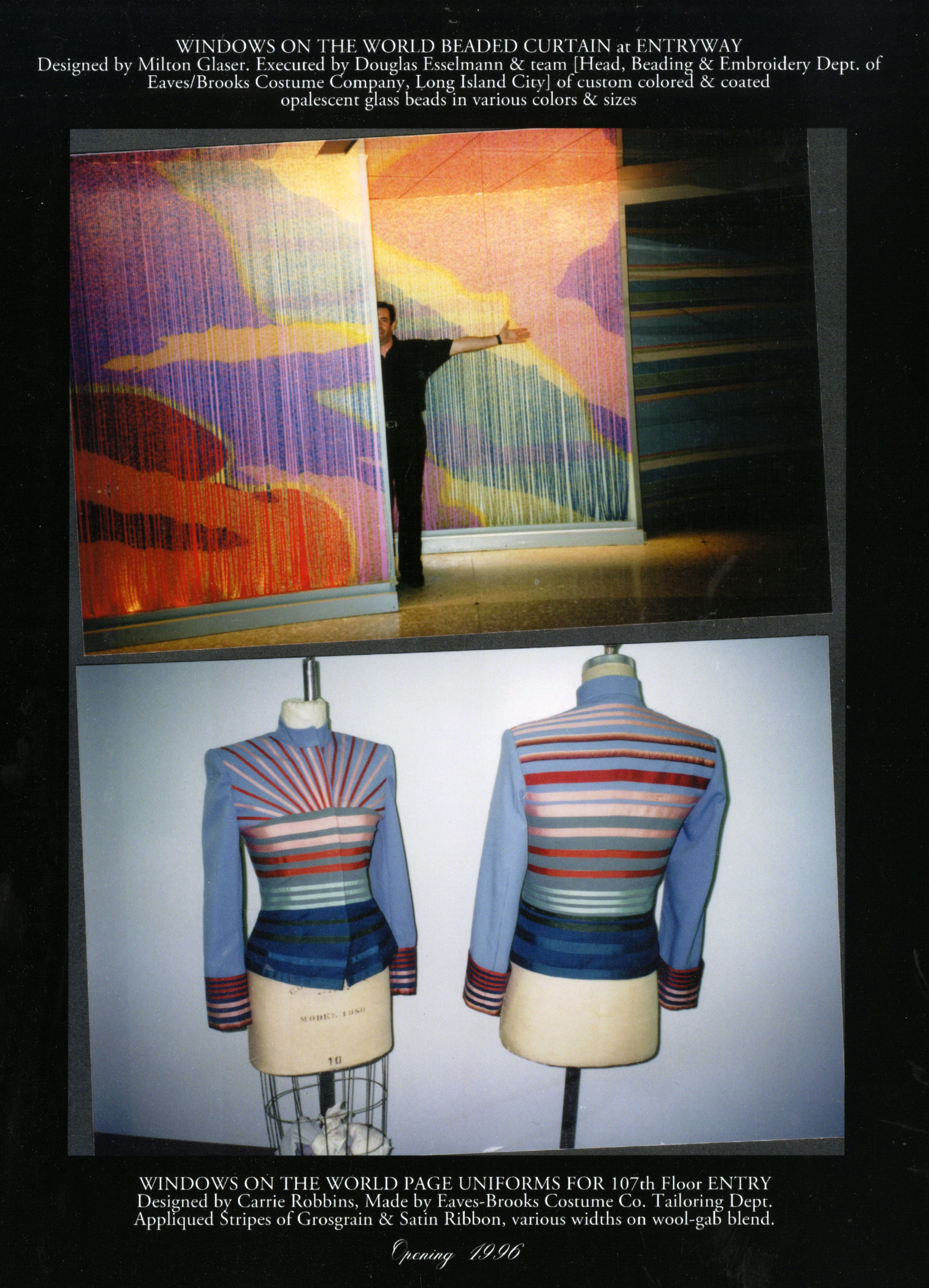 Robbins' Windows on the World uniforms won the 1996 Image of the Year Award from the National Association of Uniform Manufacture and Design. She generously sent us samples from the Windows on the World and Rainbow Room projects, which we share here.