The BFA Fine Arts department has long shown film or video art in the SVA Amphitheatre. These rough posters, spanning three decades, announce screenings of milestone works.
The organization of "Film Art" was centered around "issues that parallel work by the artists in other mediums … focussing on a single activity," the last part seeming to refer especially to Bruce Nauman's iconic "Walking In An Exaggerated Manner…" (1967-1968), which was a sort of reductio ad absurdum of the earlier "Thighing" (1967), in which the artist massages his leg to the soundtrack of his breathing. Lawrence Weiner's "It Is / Done To" (1974, described by Electronic Arts Intermix here) starred Kathryn Bigelow, who would go on to direct Point Break and The Hurt Locker.
The press release argues a little optimistically that "while the films of each artist are distinct, a methodological approach united them under the aegis of Minimal, Conceptual and Body Art." (That's just one aegis?)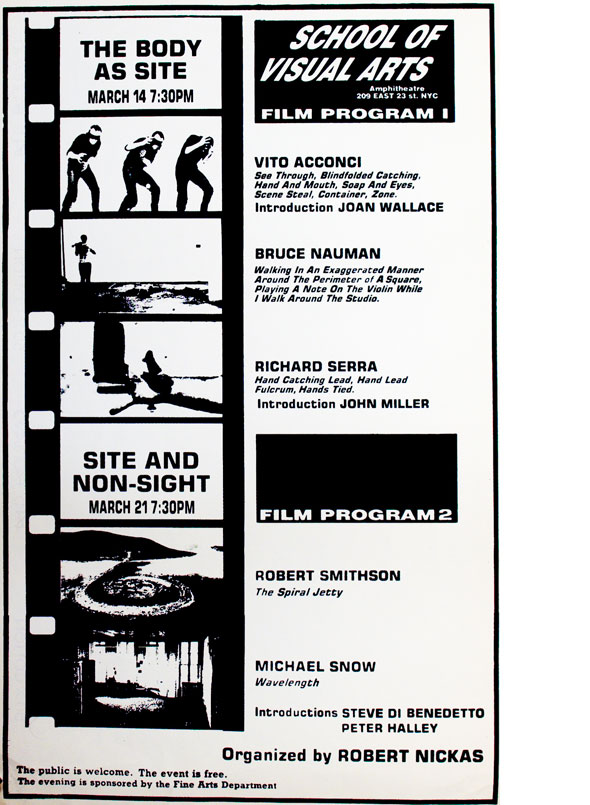 The first part of this program showcased works that are based on "using the body to see"; the second, "using the image to see." Which makes me think "Walking…" was still the linchpin five years after "Film Art." In the second issue of Avalanche, Willoughby Sharp says that he saw it SVA, which means Nauman films had been screening here as early as 1971.
The others—Vito Acconci's "See Through," Richard Serra's "Hand Catching Lead," Robert Smithson's "Spiral Jetty" film, and Michael Snow's "Wavelength"—are also some of the biggest hits in video art (that is, under the "aegis" of Minimal, Conceptual, Body, and presumably Earth art). All of these seminal works were produced between 1968 and 1971.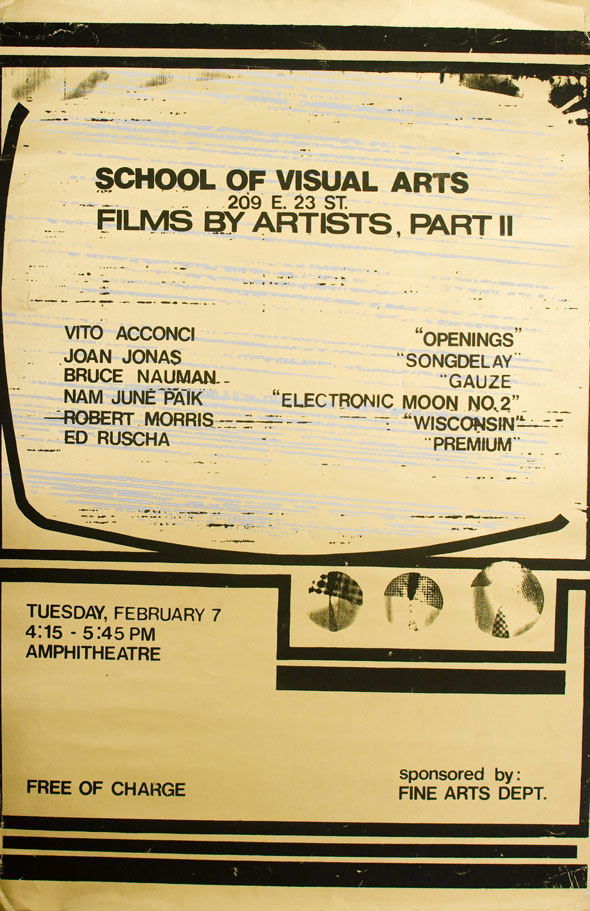 The earliest of this group of posters, "Films By Artists, Part II" is described as a "contemporary program" where "all of the artists, whose films are being shown were among the first to work in more than one media." It sounds improbable when phrased like that, but I think the point is that the artists "intermixed" various disciplines, all involving film.
This screening included works made between 1969 and 1973: Vito Acconci's "Openings," Joan Jonas's "Songdelay," Bruce Nauman's "Gauze," Nam June Paik's "Electronic Moon No. 2," Robert Morris's "Wisconsin," and Ed Ruscha's "Premium"—which, according to the press release, "gave him the opportunity to be a raconteur."