Milton Glaser created this 1965 book jacket for The Cook, a satirical horror novel about a mysterious chef, Conrad Venn, who seduces and manipulates the wealthy Hill and Vail families with food.
Kressing harnesses the sinister power of muffins when Mrs. Hill, known for never asking for seconds or entering the kitchen, abruptly changes her behavior:
After breakfast a tall, statuesque woman came into the kitchen. "I'm Mrs. Hill," she smiled, concealing her surprise at Conrad's appearance. "I just wanted to tell you that your muffins were delicious." Conrad inclined his head and thanked her.
And before Mrs. Hill left: "Could we possibly have some more muffins for breakfast tomorrow morning?"
In Glaser's 1973 book Milton Glaser: Graphic Design, Glaser tells how Kressing loved the art and asked him to dinner at his home (a meal which certainly must have served Glaser well later as one-half of The Underground Gourmet):
He cooked a frightening meal consisting of a variety of organ meats, most of which I didn't recognize. The book was quite wonderful and was later made into a film (Something for Everyone) with absolutely no relationship to the novel.
The original art is even better than the finished jacket, featuring Venn's Giacometti-esque form with a long, skinny shadow tail.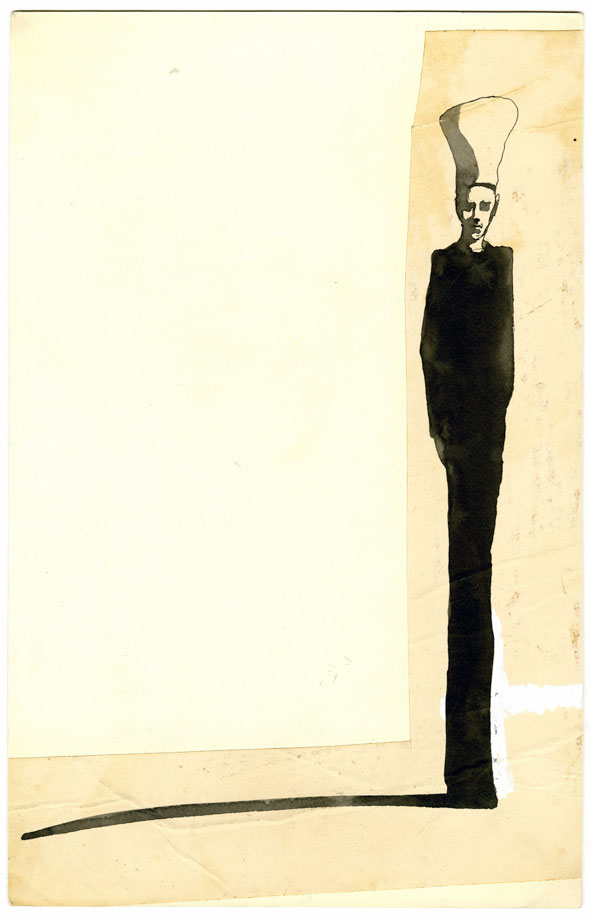 This post also appears on our Picturebox blog.