Sometimes the trail of sketches Milton Glaser leaves behind seems excessive — so much imaginative range — when the final product is a one-time poster or incidental article of packaging. In such cases I find the final product suffers by comparison, if only because it can't be everything at once. This wasn't a small project, exactly — a cover for Time. But the assortment of images that it engendered is weirdly resonant with the feature story (I don't know if Glaser had the opportunity to read the article beforehand, but I would guess not in this case, or otherwise it wouldn't have mattered). In the 10-page cover story, the magazine posits Gould as the "star for an uptight age":
Gould always seems to be caught up in social—and sexual—tension. He embodies an inner need to be hip at the risk of seeming silly, the struggle not to give in to the indignity and/or insanity of contemporary life. The two pseudo-hipsters in the park, and thousands more like them, have made Elliott Gould a star for an uptight age. In Gould they see all their tensions, frustrations and insecurities personified and turned into nervous comedy that both tickles and stings with the shock of recognition.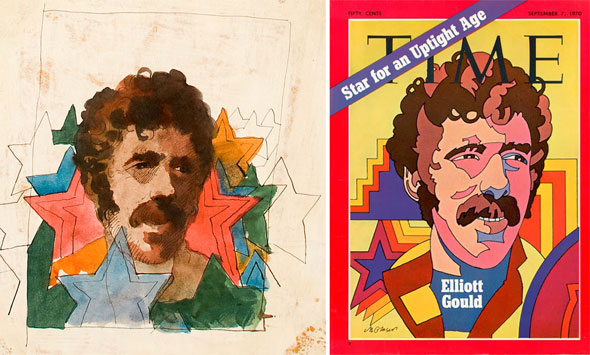 The Brooklyn Academy of Music found this compelling enough to adopt it as the title of their 1998 Gould retrospective. And the idea that the neurotic everyman will supersede the silver screen heroes and matinee idols is a news-peg narrative of cinema that is brought before us at regular intervals. But I think there was a subtler reading throughout the piece. From all descriptions, most of all his own, Gould is marked by his great malleability. If he's "uptight," he comes across as weirdly open about it. A star not for an age of insecurity but for one of rapidly-changing contingencies. His friends, for one, all see different pictures:
His estranged wife, Barbra Streisand, calls him "the American Jean-Paul Belmondo" … Jack Brodsky, calls him "the Jewish Richard Burton"; and Paul Mazursky, director of Bob & Carol, says that he is "the Jewish Jimmy Stewart." But the man himself says simply: "I'm the Jewish Elliott Gould."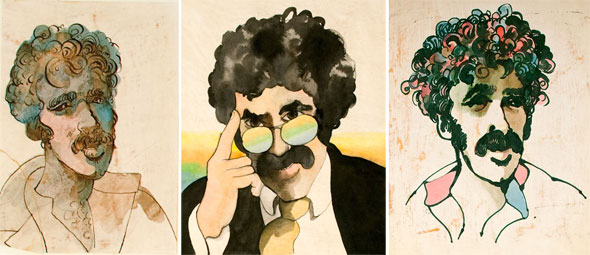 This post also appears on our PictureBox blog.