In the early 1980s, Push Pin Studios produced a line of candies under the name "Pushpinoff Sweets." Seymour Chwast art directed the packaging, which presented whimsical concept candies in a cheeky faux-luxury style: mints in the shape of caviar, almond "pearls," candy olives ("martini-flavored") and a lavishly proportioned chocolate bar.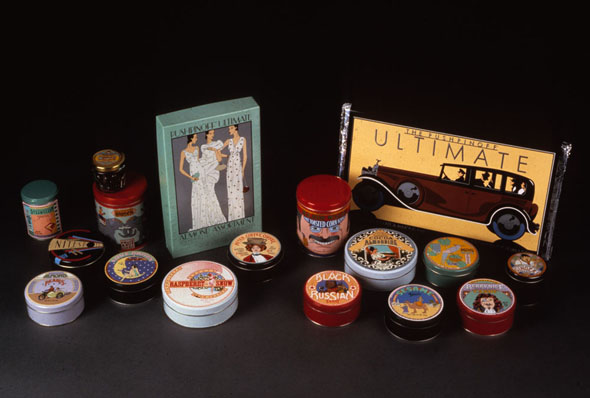 Seymour Chwast describes the origin of the project in an interview with Steven Heller, from The Education of a Design Entrepreneur (2002):
Pushpinoff came about as an extension of an idea we had for a Christmas gift, called Pushpinoff Caviar on Ice, a glass souffle dish filled with rock candy and topped with a three-inch layer of black "caviar" mints. This was the idea of Phyllis Flood (now Phyllis Feder), who handled Push Pin's business at the time. Roger Horchow (The Horchow Collection) ordered the item for his catalogue. It was a big success, although the fragility of the glass container made it expensive to pack and ship. So, Phyllis came up with the idea to package it in tins, the way "real" caviar is sold. This allowed for a lower price point, which translated into terrific increase in volume. From this point the line developed into a total of eighteen items, all of which were in decorative tins, except for the Pushpinoff Ultimate Chocolate Bar—at the time, the "world's largest chocolate bar." It was five pounds of chocolate with an exquisite Rolls Royce-illustrated label, which I designed.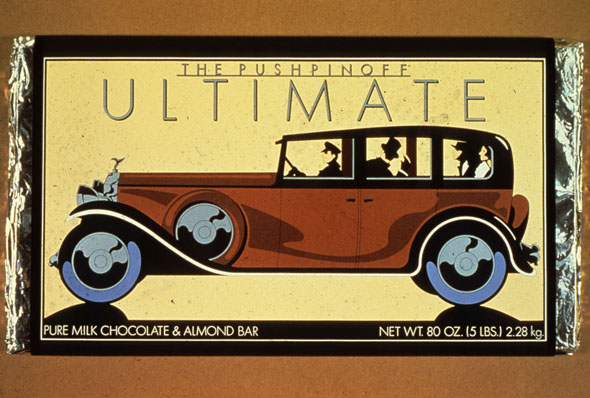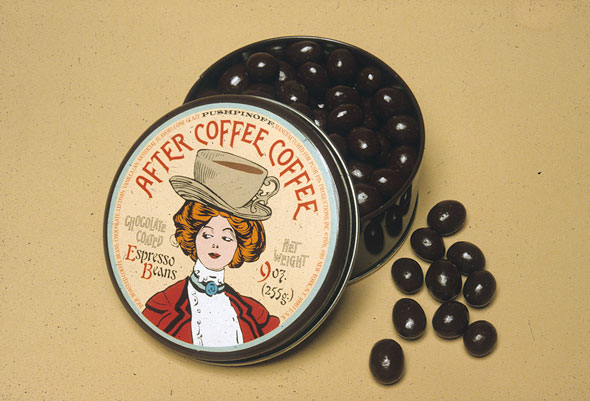 The brand found success in catalog sales, were recognized by annuals, and featured in an editorial in House Beautiful in 1978. Chwast was commissioned by Cooper Union to develop one promotional variety, which featured Peter Cooper and was based on his earlier After Coffee Coffee.