Milton, a foodie and lover of lunch, was responsible for many well-known restaurant designs, including Windows on the World in the World Trade Center and the Rainbow Room at Rockefeller Center, projects that encompassed not just identity and graphics but also interior design. He also worked on less high-profile eateries, including the long-gone but beloved Pizza Piazza, which was located at 785 Broadway at 10th Street (like everything else in New York, it was replaced by a Chase Bank). Milton designed the spiky identity for Pizza Piazza and probably also the exterior plant sculptures and the interior. The logo colors are 80s preppie pink and green, while the simplified letterforms are reminiscent of Milton's Baby Teeth type except for the "Z"s, which vibrate like tv static.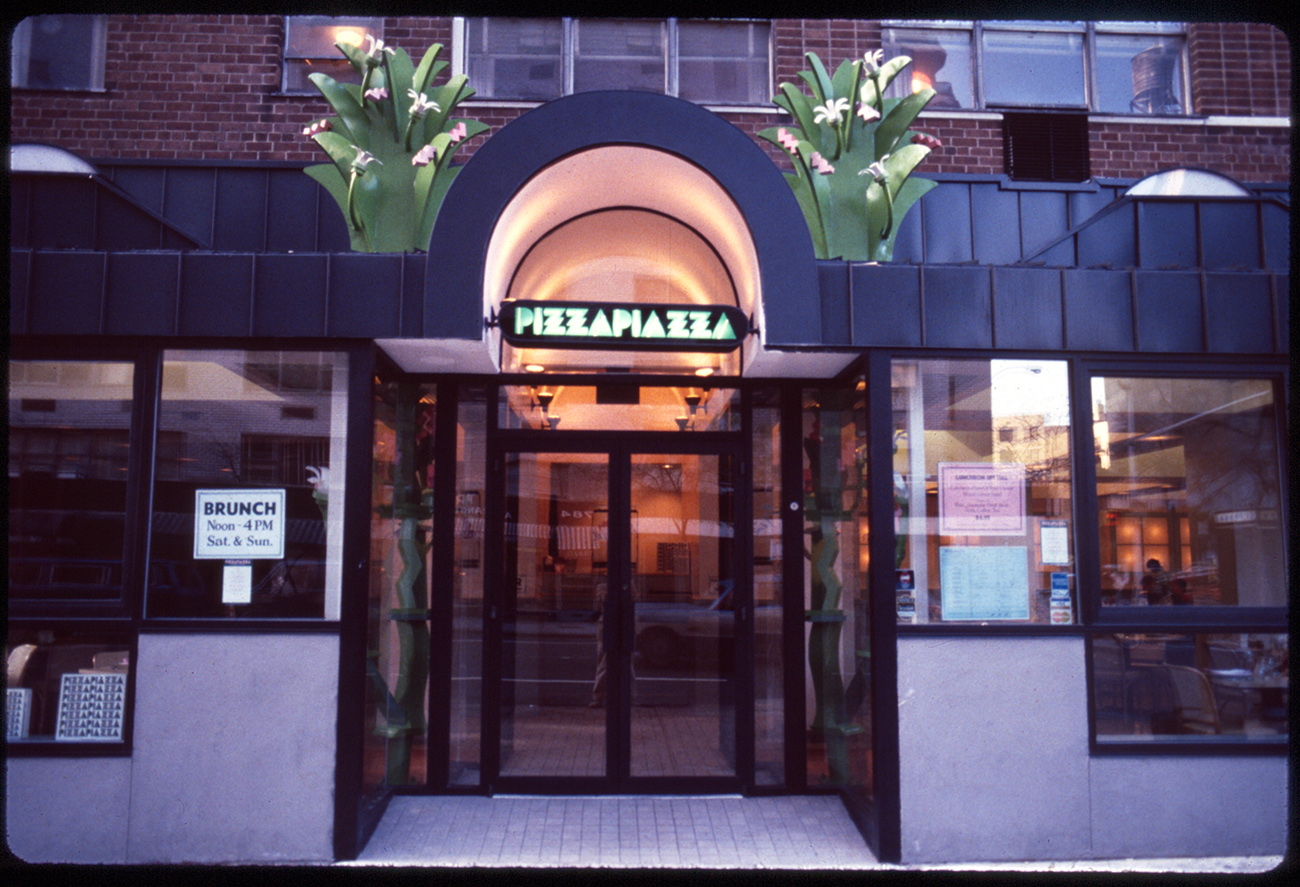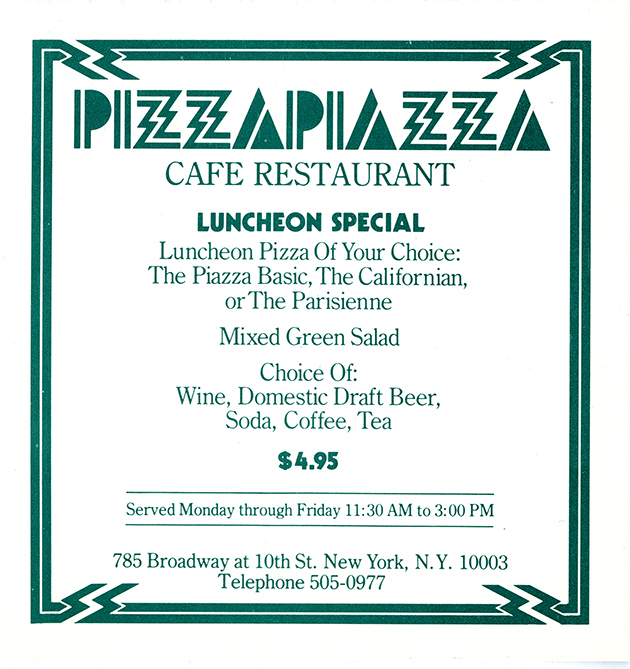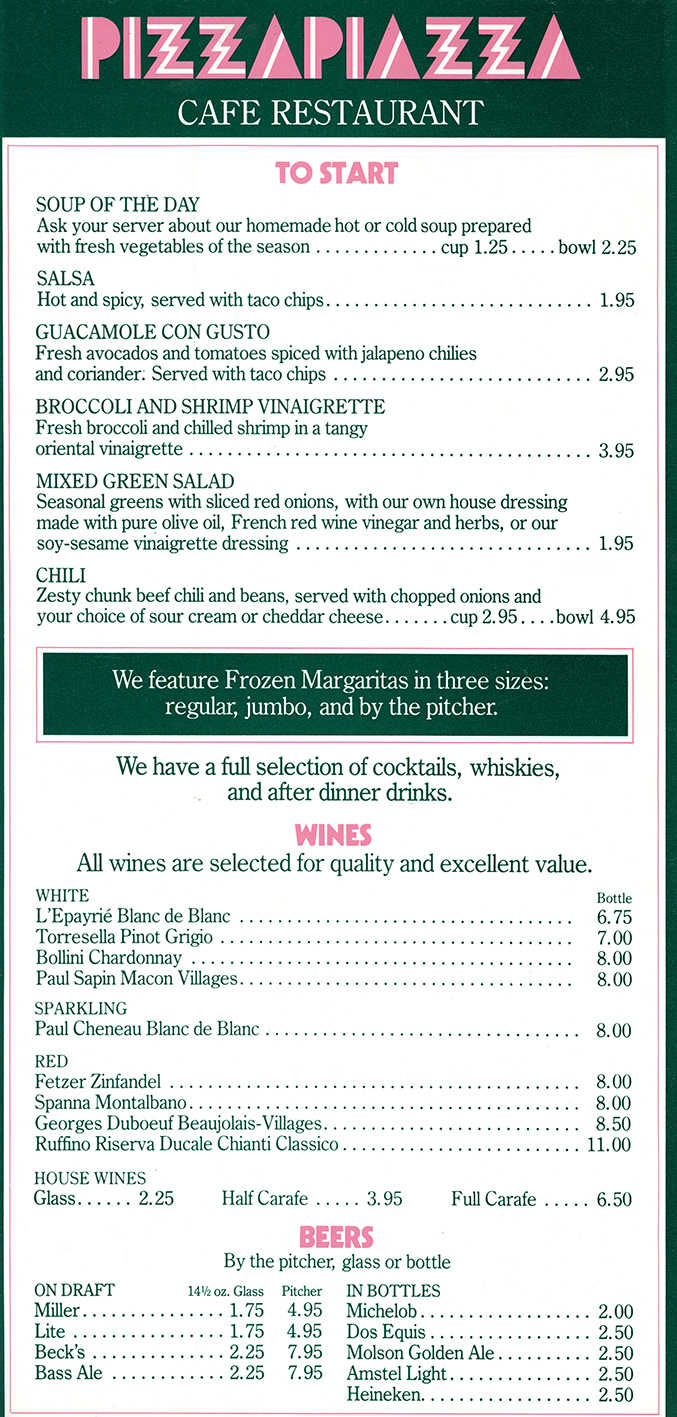 We lack photos of the interior, but Susan Kramer, a designer, programming director and California pizza fan—whose initial inquiry sent me down the Pizza Piazza rabbit hole—was a frequent patron and remembers it well.
There were booths along the back wall, where there were these faux window frames mounted. The booths were in a green vinyl in similar color to the leaves on the plant sculptures (whose trunks continue through the roof plane into the interior). The flooring was end cut wood. I'd never seen it before and it was beautiful.
In 1984, New York magazine food critic Barbara Costikyan extolled Pizza Piazza's breakfast pizzas:
Down at Pizza Piazza, the management had a hunch - pizza con brunch! No ordinary pizza, but some great brunch classics done deep-dish-pizza-style. We would kill for the Broadway (eggs, cream, cottage cheese, Nova, and chopped fresh scallion greens). But the Great Western tugs at us too. That's tomato, onion, eggs, jalapeno, and link sausage. When it's cold and we're hungry, there's the nice and spicy Corned Beef Hash. The healthies go for the Florentine, garlicky spinach, cheese, and poached eggs. (Barbara Costikyan in New York, January 9, 1984.)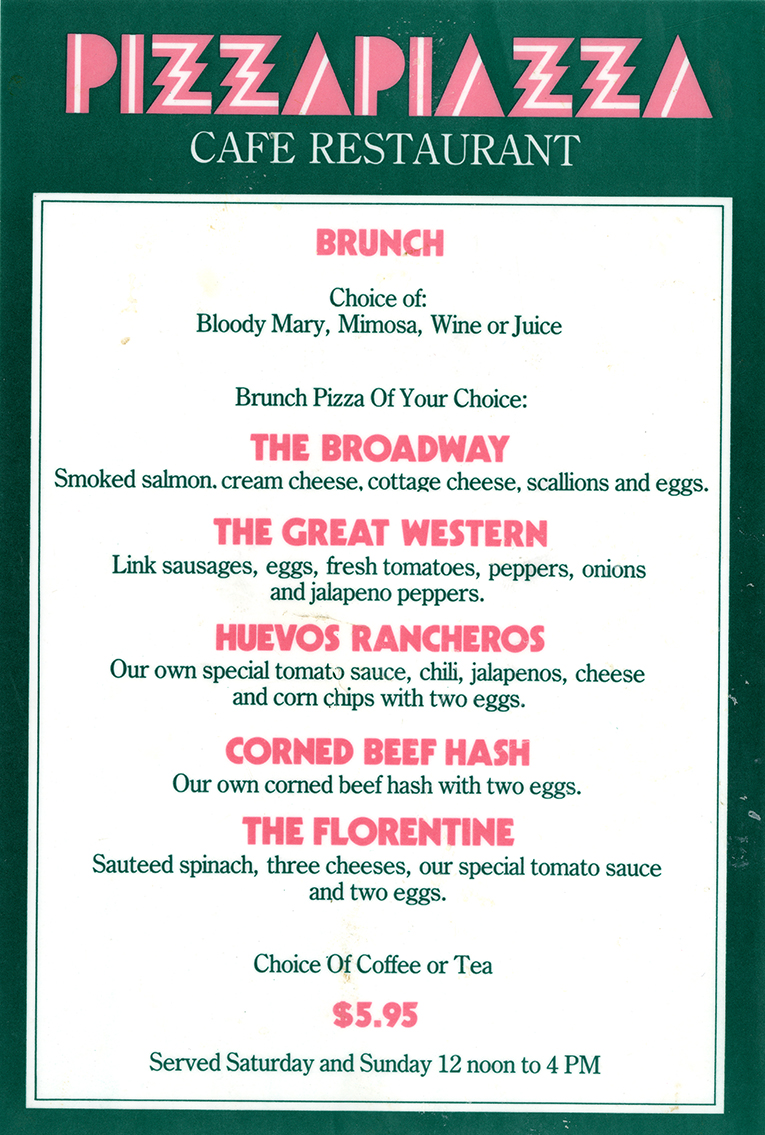 In a separate August 1, 1983 column, Costikyan proclaimed that Pizza Piazza was home to her favorite guacamole. (Costikyan also wrote for New York's Underground Gourmet column, which was started by Milton and Jerome Snyder).
Gael Greene, also writing in New York, was less enthusiastic about the pizza but still held affection for the place.
I love everything about Pizza Piazza except the deep dish pizzas baked in black steel pans. Winsome and folksy, with wonderful desserts, Pizza Piazza has a loyal claque delighted to eat here. But to me, the crusts seem tough, the fillings like stew. Still, I'd be content to make a meal of the All White - a blend of cheeses and softened onions - climaxed by a ration of double-fudge chocolate mousse cake. (New York, July 1-8, 1985).