To wrap up our special Cold War extravaganza (see also here and here), please enjoy this last piece from the "Graphic Trends" portfolio: a calendar in both Russian and English designed and illustrated by Push Pin Studios, a driving force behind the revival of historical artistic styles as well as the new conceptualism afoot in the graphic arts. Milton Glaser's playful portraits of folk heroes Paul Bunyan and Ilya Murometz are placed side-by-side: "Although Paul Bunyan existed only in the imagination of the People, he, like Ilya Murometz, personified a great land."
On Murometz:
There was no evil in Russia which this defender could not conquer. He fought the Tartars and The Dragon; he fought Nightingale the Robber, and the Evil Idol. He also fought the injustice of his time and had harsh words for Vladimir The Prince when he slighted another peasant in his presence.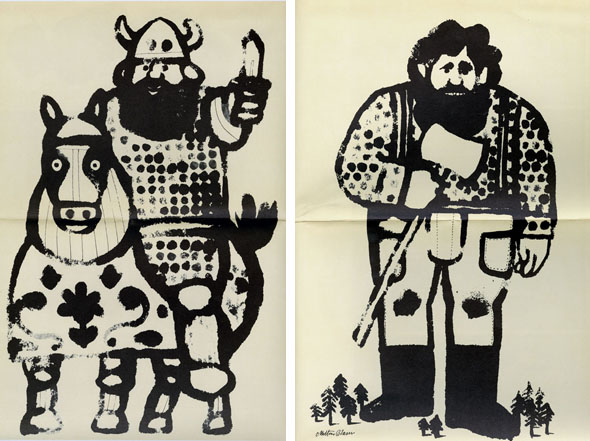 The reverse side assigns each month to an American or Soviet cultural icon, placing artists in the same discipline next to each other: filmmakers Sergei Eisenstein and D.W. Griffith; artists Léon Bakst and Edward Hicks; composers Tchaikovsky and Gershwin. Portraits by Isadore Seltzer, Paul Davis, and Milton Glaser are below.